Welcome to Parent Coordinator Connections! This new bi-monthly newsletter will be your source for what's happening for you, your parents and your school community. You'll find information and links to Professional Development Opportunities, Parent Events, Parent Outreach and more. We will be evolving over the next few weeks, so if you have any suggestions or comments, email us at Face@schools.nyc.gov.Together we can make it a great 2014-2015 school year!
Visit the DOE's  One-Stop-Shop Back to School page that has all of the information your parents will need for the coming school year right at their finger tips, including an easy-to-use search tool to find their school and confirm their child's school-day start and end times andBack to School Basics–– one page summary of resources for families. Please familiarize yourself with the resources on this page and share them with your parents.

Facelift for FACE's WebsiteThe Division of Family and Community Engagement's website has a new look and feel. Now it's easier for parents and parent coordinators to use and find information. We've also added a brand newParent Coordinator Resources page loaded with content from our partners at Connect With Kids. You have to sign up to use the new site, instructions to log in can be found on this flyer…

Want to learn great techniques and strategies to develop family engagement programs in your school community? Then you won't want to miss the New Parent Coordinator Orientation on Tuesday, September 30, 9 a.m. to 4 p.m.,  at the DC37 offices. Stay tuned for more information.
Parent Coordinator Leadership Institute 
The Parent Coordinator Leadership Institute is a selective, intensive yearlong professional development series. Parent Coordinators will develop leadership skills, program development and management expertise and so much more. The focus of this year's institute will be "Developing a Needs Assessment for the School Community".Only a limited number of applicants will be accepted. Applications will be available on September 8, 2014 on the Parent Coordinator Resource page, under"Register Now" .
Spotlight: Dad's Take Your Child to School Day – September 16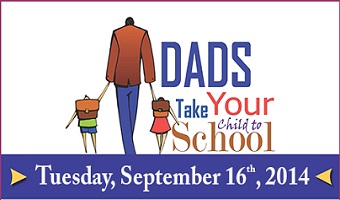 Need ideas to increase fathers involvement at your school? Visit the Dad's Take Your Child to School website for resources and suggestions. Register to participate on September 16 and join schools across the city and state in celebrating the important role that fathers play in their child's education. Also, consider extending your DTYCTSD activities on Family Night.  Flyers  are available to post in your school and to share with families.